Please help us get some local libertarians into the list of people nominated.
Here are some suggestions:
Straight ally - Nick Gillespie (who covers gay issues in reason magazine) or Robert Sarvis (Virginia gubernatorial candidate).  Nick has been nominated already by me
Most committed activist - Bruce Majors (you actually got me into this category last year by nominating, so I was in the list of the 5 nominees people then voted on; Barney Frank won)
Gay politician - Laura Delhomme, Libertarian for Delegate (Arlington, VA) (a little bit gay will do)
Best realtor - Bruce Majors will appreciate a nod here too
http://www.washingtonblade.com/best-of-gay-d-c-nominations/#formBuilderCSSIDBest_of_Gay_DC_2013_Nomination_Form
-
Best of Gay D.C. Nominations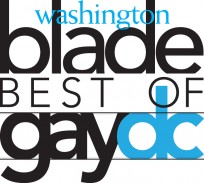 Best of Gay DC 2013
Nominate your favorites in any or all of the Best of Gay D.C. categories below. Come back once a day to nominate the people and businesses you think deserve recognition. Nominations are open until Aug. 16. The top five nominees in each category will move on to final voting to be held Sept. 8-Oct. 1. Check back for updates regarding the 2013 Best of Gay D.C. Awards party to be held Oct. 24.
--
--
Thanks for being part of "PoliticalForum" at Google Groups.
For options & help see
http://groups.google.com/group/PoliticalForum
* Visit our other community at
http://www.PoliticalForum.com/
* It's active and moderated. Register and vote in our polls.
* Read the latest breaking news, and more.
---
You received this message because you are subscribed to the Google Groups "PoliticalForum" group.
To unsubscribe from this group and stop receiving emails from it, send an email to politicalforum+unsubscribe@googlegroups.com.
For more options, visit
https://groups.google.com/groups/opt_out
.